Hello, dear minimalist enthusiasts! It's me, your go-to minimalist guide. I am really stoked to share a new musing that many of you have been asking for – alternatives to coffee tables. I know how much we all value simplicity and functionality in our living spaces, and sometimes, the conventional coffee table just doesn't make the cut anymore.
Now as you know, I'm your favourite minimalist. So, I completely understand when people tell me of the difficulty in trying to find the right balance between aesthetic appeal (what I love) and practicality (what we need) when looking at the furniture we buy. I chose (read about this here) to throw out my coffee table. It wasn't an easy choice. I loved the look of it, but I struggled to really ignore the fact that it was taking up valuable space and wasn't serving many purposes beyond being a temporary landing spot for my remote controls and coffee mugs. I decided to explore other options and discovered a world of stylish, space-saving, and functional alternatives.
In this section, I will be sharing some fantastic coffee table alternatives that have not only helped me but will also inspire you to rethink your living room setup. These alternatives will make your space more functional, open, and aligned with our minimalist values. So, let's dive in and explore the world of coffee table alternatives together!
Space-saving alternatives to replace your coffee table
Floating shelves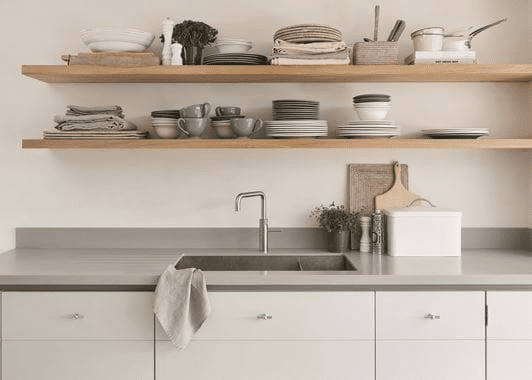 Floating shelves have been a game-changer for me. They're an excellent option for those of us looking to free up valuable floor space while still having a place to display our favorite books, plants, and decorative items. They also create a clean, tidy , and uncluttered look, which is great. They also let you customize the height and arrangement of your shelves to perfectly suit your needs. For example, I installed a set of floating shelves at a comfortable height, perfect for resting my coffee cup while I lounge on my sofa.
C-tables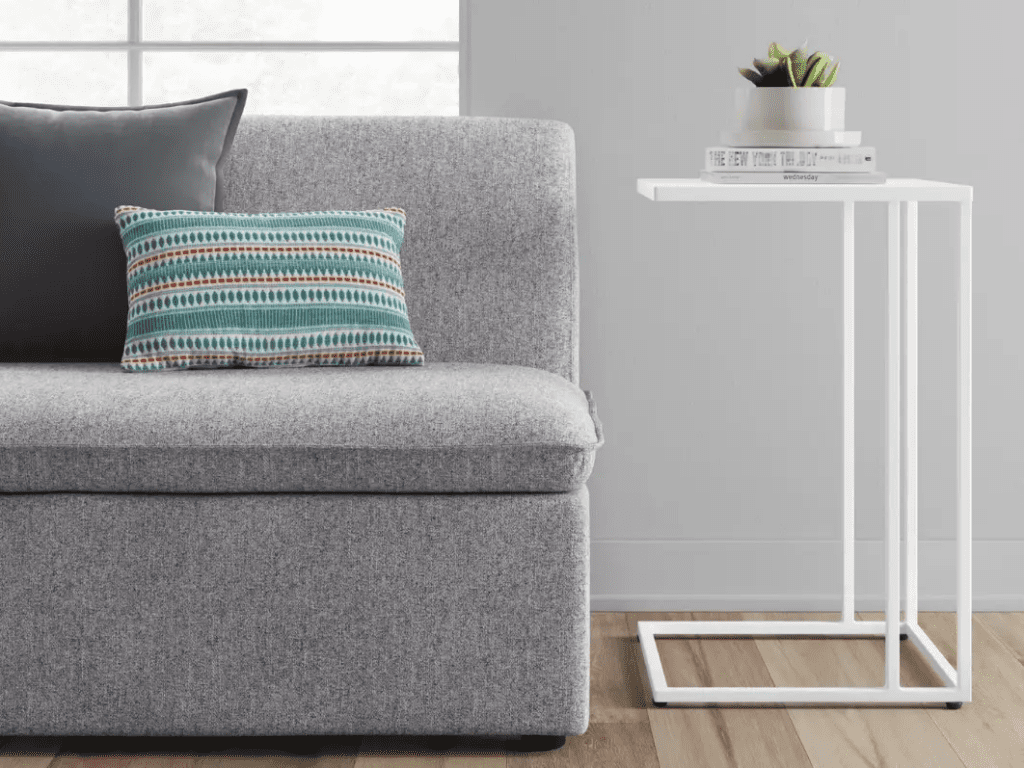 C-tables, also known as C-shaped tables or slide-under tables, have become a favorite in my living room. They're designed to slide under your sofa, making them incredibly versatile and space-saving. When I'm desperately looking for a reliable surface to place my laptop or snacks, I simply slide the C-table up to my sofa, and when I'm done, I slide it back out of the way. The sleek design and variety of styles available make it easy to find a C-table that complements your minimalist aesthetic.
Nesting tables
Nesting tables are another ingenious solution for those of us looking to maximize functionality while minimizing clutter. These compact wonders typically come in sets of two or three tables that easily slide under one another, creating a single, unified piece when not in use. I was thrilled when I first discovered nesting tables as they not only save space, but also offer the flexibility to use them individually as needed.
For instance, when I entertain guests, I can pull out the smaller tables and use them as individual side tables for drinks and snacks, and then slide them back under the larger table when it's time to clean up. The variety of designs and materials available means you can easily find nesting tables that fit your minimalist vision. I personally chose a set of sleek, metal-framed nesting tables with glass tops that add a touch of elegance to my living room without overwhelming the space.
Multi-functional coffee table alternatives
Storage ottomans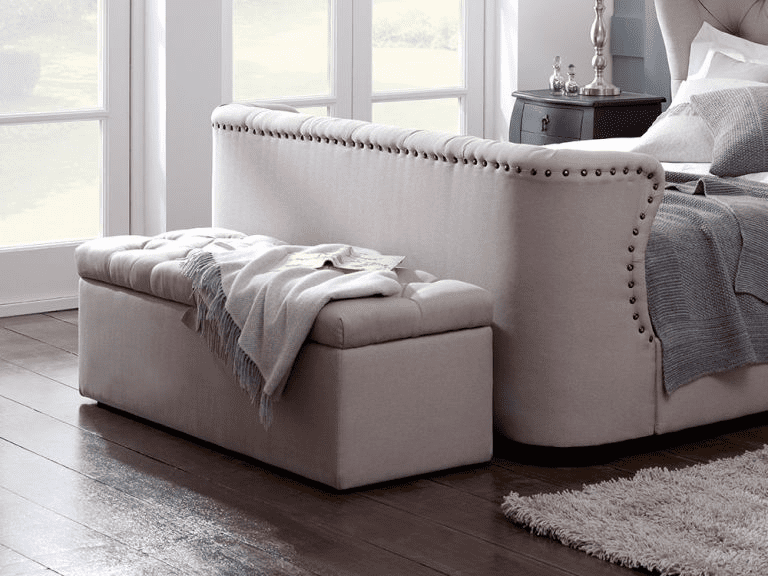 Storage ottomans have really become a fan favorite in my home. Honestly, you are going to LOVE these. These versatile pieces double as comfortable seating and hidden storage solutions, making them perfect for stashing away blankets, magazines, and other essentials. When I replaced my coffee table with a storage ottoman, I found it to be not only a comfortable place to rest my feet but also a convenient spot to store my favorite reads and cosy throws. On top of this, they are available in a number of beautiful styles and different materials. So there are no issues when trying to fit it into your minimalist home.
Lift-top tables
Lift-top tables are another ingenious invention that I couldn't wait to share with you. These tables feature a top that lifts and extends, creating a convenient workspace or dining area right in your living room. I adore my lift-top table for those evenings when I want to work on my laptop or enjoy a meal in front of the TV.
Convertible desks
Convertible desks have been a lifesaver for me, especially in my small living space. These innovative pieces of furniture can quickly transform from a compact side table to a fully functional desk or dining table when needed. I remember the first time I used my convertible desk – it was like a breath of fresh air. No more cluttered coffee table or balancing my laptop on my knees while working from home!
When choosing a convertible desk, look for one that seamlessly blends with your existing décor and has a simple mechanism for conversion. I opted for a minimalist wall-mounted desk that folds down when I need to work and folds back up to become an unobtrusive shelf when not in use. It not only saves space but also keeps my living area looking clean and clutter-free.
So, my fellow minimalists, these multi-functional alternatives are perfect for those of us who value practicality and versatility in our homes. By incorporating storage ottomans, lift-top tables, or convertible desks into your living space, you can enjoy a more organized and purposeful environment without sacrificing style or comfort. Embrace these clever solutions and say goodbye to your traditional coffee table for good!
Eco-friendly alternatives to coffee tables
Repurposed furniture
Repurposing old furniture is one of my favourite techniques to breathe new minimalist life into a room or space. I found an old wooden crate at a thrift store and turned it into a unique and functional side table with just a little bit of elbow grease and creativity. By sanding and staining the crate and attaching some casters to the bottom, I was able to create a charming, rustic table that doubles as storage. It's not only eco-friendly but also adds character to my minimalist living room.
Sustainable materials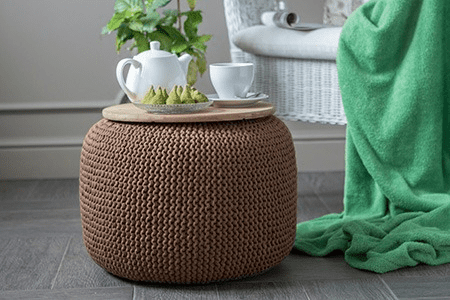 When searching for coffee table alternatives, I made it a point to prioritize pieces made from sustainable materials. When it comes to eco-friendly options I love to go with bamboo, reclaimed wood, and recycled metals. Becasue they can help to reduce our carbon footprint. I'll give you a good example: I recently purchased a side table made from reclaimed wood. It looks incredible and it also makes me feel good as I know I've made a choice that is environmentally friendly.
If we all start to embrace eco-friendly alternatives like this, we can make a positive impact on the environment.
Supporting ethical and eco-conscious brands
Another way to make a difference while rethinking your coffee table situation is by supporting brands that prioritize sustainability and ethical practices. As a minimalist, I appreciate companies that not only create beautiful and functional pieces but also share our values of reducing waste and caring for the planet.
When shopping for my new coffee table alternative, I researched brands that use ethically sourced materials, have environmentally friendly production processes, and give back to their communities. One brand that caught my attention created stunning tables from recycled plastic, turning potential waste into a functional and stylish piece of furniture.