In today's world where ostentatious jewelry and over-the-top fashion are the norm, minimalist watches bring a much needed touch of simplicity and grace. With their understated elegance, these watches serve as a gentle reminder that sometimes, the less we have, the more we truly possess. So, ready to embark on a journey into the captivating world of minimalist watches?
At their core, minimalist watches strip away all that's unnecessary, focusing solely on what truly matters – functionality, all while preserving their visual allure. They are the embodiment of the 'less is more' ethos, making them the go-to choice for those with a taste for the refined and understated.
Minimalist watches are a blend of functionality, simplicity, and elegance.
Here's a summary of the watches in this article:
| Watch | Pros | Cons | Rough Price (in $) |
| --- | --- | --- | --- |
| Nordgreen Native | Exceptional simplicity, Interchangeable strap system, Epitome of Scandinavian minimalism | Limited advanced features | $150 – $250 |
| Braun BN0021 | German precision, Stainless steel casing and leather strap, Striking contrast of white face & black indices | Minimalist design might not appeal to everyone | $100 – $200 |
| Timex Fairfield | Sleek design, Indiglo night-light, Interchangeable straps | Might lack the premium feel of luxury brands | $50 – $100 |
| MVMT Element | Modern design, Hardened mineral crystal glass, Brushed titanium case, Precision Miyota quartz movement | Brand is relatively new, lacks the heritage of traditional watchmakers | $90 – $150 |
| Nordgreen Philosopher | Sustainable design, Mesh stainless-steel band, Japanese quartz movement | Limited advanced features | $150 – $250 |
| Nomos Glashütte Tangente | German precision, Legible dial, Variety of strap materials | High price point for minimalistic design | $1,500 – $3,000 |
| Skagen Aaren Kulor | Vibrant design, Water-resistant, Silicone band | Silicone band might not be as durable as metal or leather | $50 – $150 |
| MVMT Signature II | Slim case, Interchangeable leather strap, Rose gold-tone | Brand is relatively new, lacks the heritage of traditional watchmakers | $90 – $150 |
Top Minimalist Watches of 2023 for Men
As we delve into the dynamic world of men's minimalist watches, it's important to remember that less is more. These sleek timepieces are designed to complement your style, not overpower it. They feature clean lines, subtle color palettes, and an emphasis on functionality. Let's explore some of the top minimalist watches for men in 2023.
The Nordgreen Native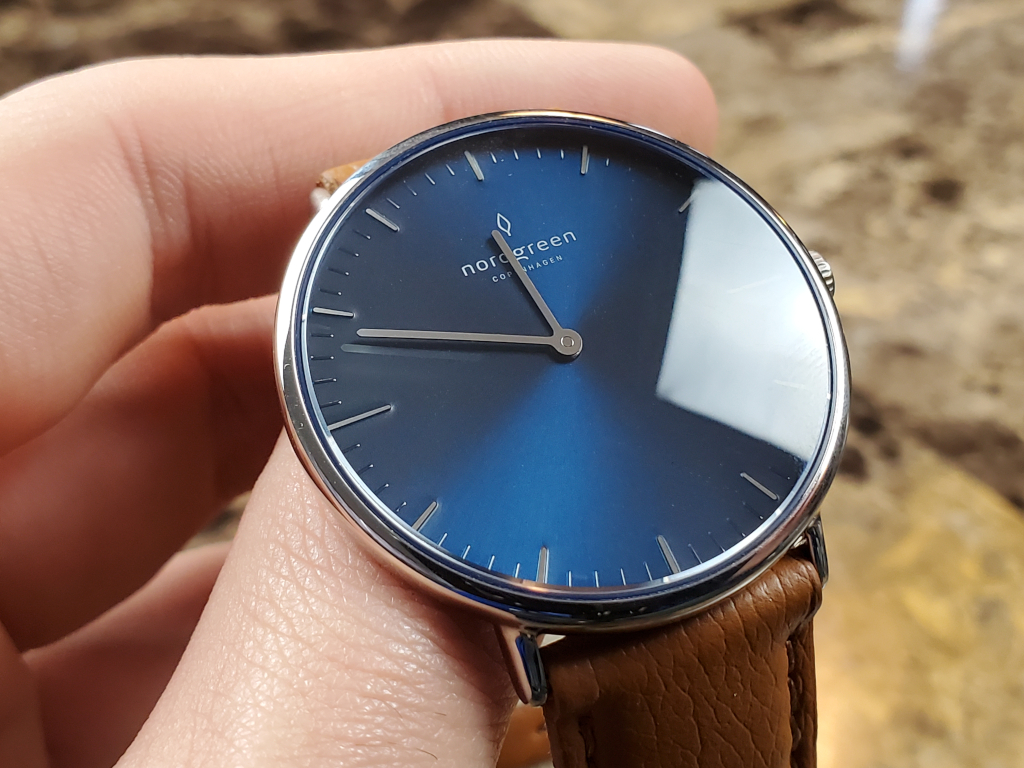 From the innovative Danish brand Nordgreen, the Native stands out with its exceptional simplicity. Its understated design is seamlessly integrated, embodying the minimalist philosophy in every detail.
With an interchangeable strap system, the Native allows you to customize your look for any occasion. Its clean dial and discreet indices represent the epitome of Scandinavian minimalism.
The Braun BN0021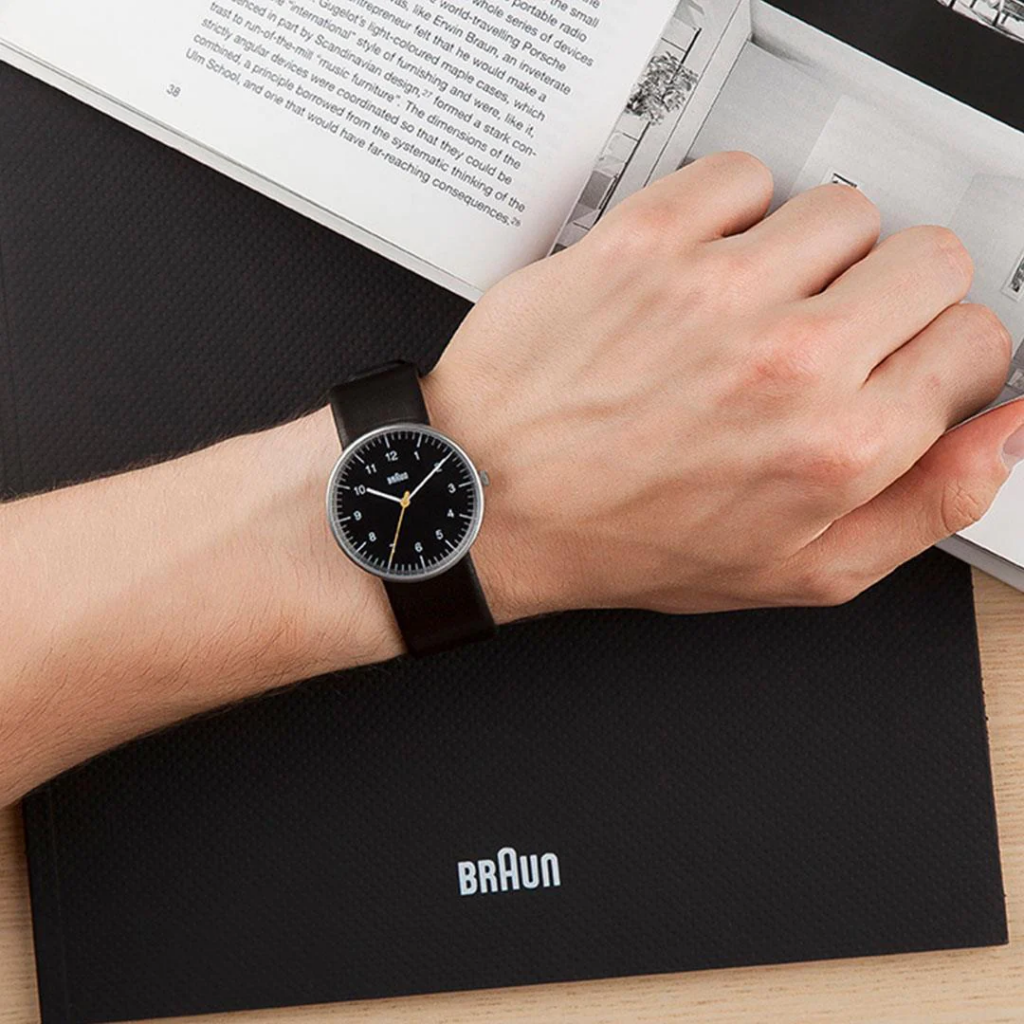 When it comes to German precision and minimalist design, the Braun BN0021 is a force to be reckoned with. This timepiece is stripped down to the bare essentials, offering a clean, uncluttered display.
With a stainless steel casing and a leather strap, it offers a sophisticated blend of durability and style. The crisp white face is punctuated by simple black indices and hands, providing a striking contrast.
The Timex Fairfield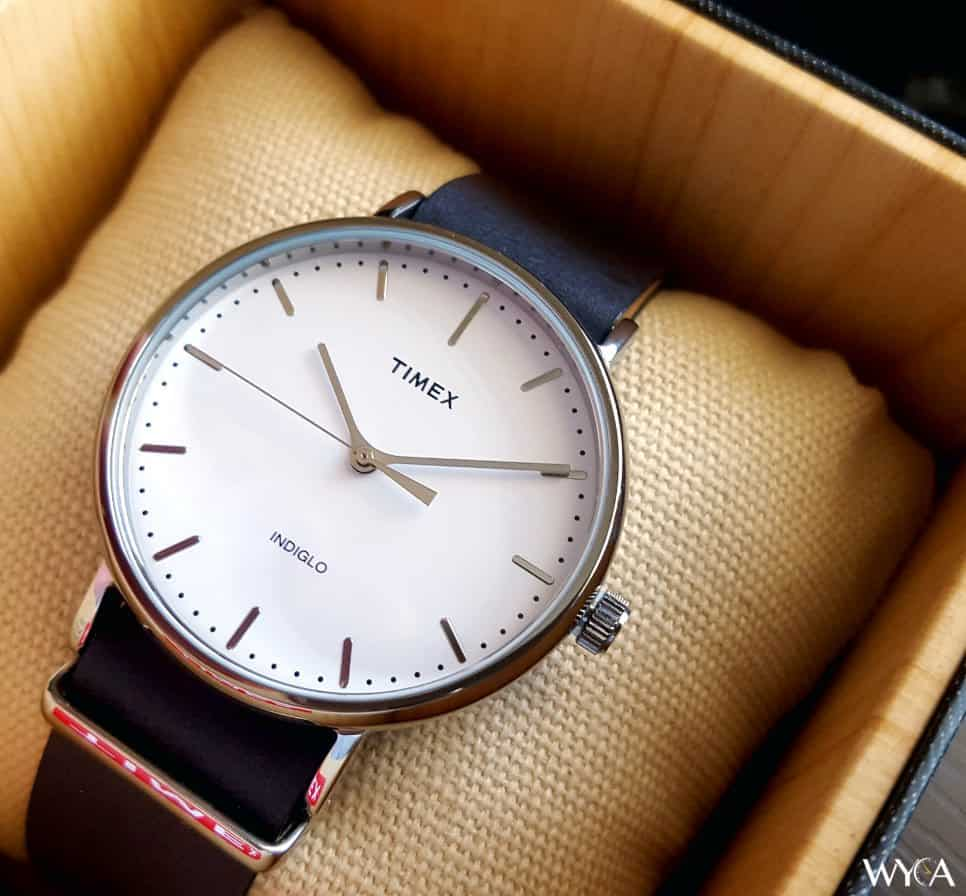 The Timex Fairfield is a testament to the power of simplicity. With its sleek design and versatile aesthetics, it's a watch that can take you from the boardroom to a casual weekend getaway.
The Fairfield features an easy-to-read face, Indiglo night-light, and a variety of interchangeable straps. It's the perfect choice for the minimalist man who demands functionality and style.
The MVMT Element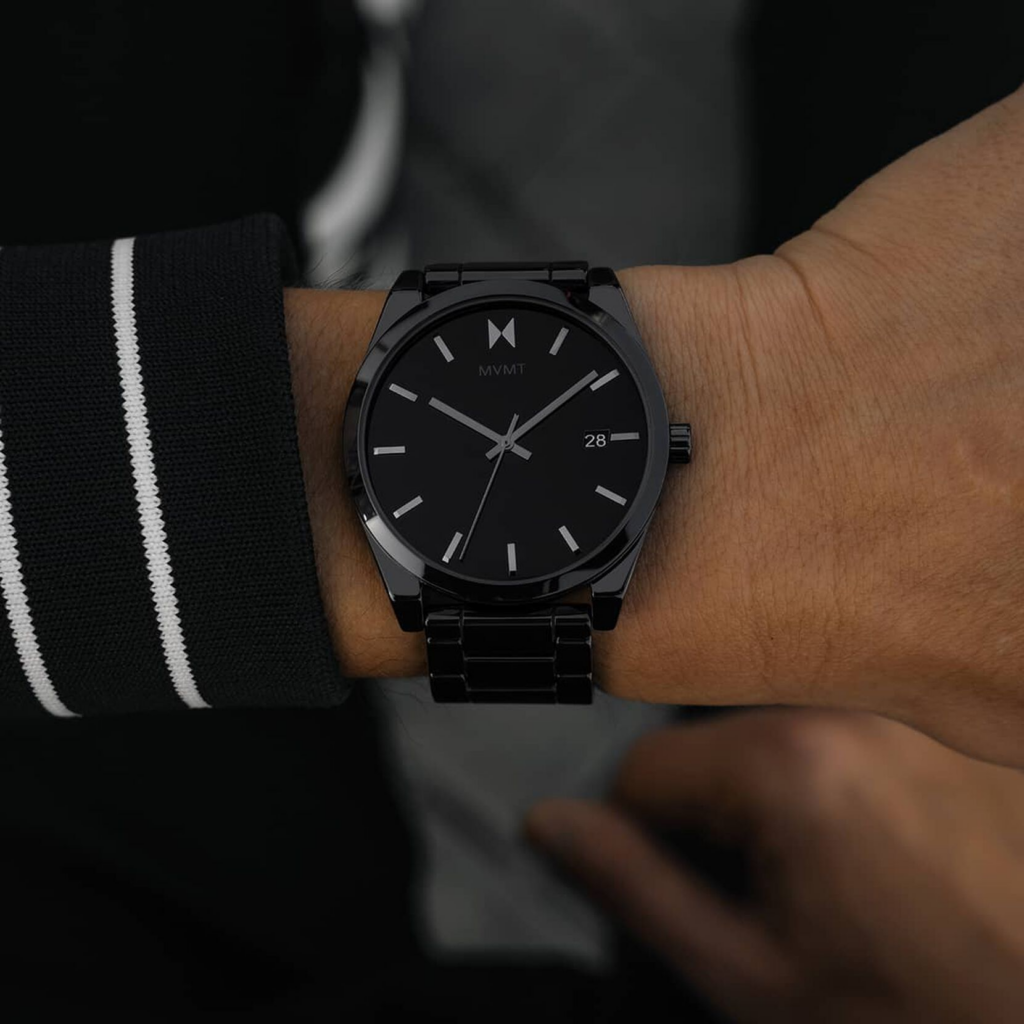 Embracing a modern take on minimalism, the MVMT Element is perfect for the contemporary man. With its streamlined design and monochrome palette, it's a style statement in itself.
With features like a hardened mineral crystal glass for durability, a brushed titanium case, and a precision Miyota quartz movement, the MVMT Element is more than just a pretty face.
To conclude, the minimalist watches of 2023 for men are all about simplicity, functionality, and style. They strip away the unnecessary, leaving only the essential, making them the perfect addition to any modern man's wardrobe. Pick your favorite and let your wrist do the talking!
Top Minimalist Watches of 2023 for Women
If you're a woman who cherishes simplicity and elegance in design, there's no doubt that you'll appreciate a well-crafted minimalist watch. This year, 2023, has seen the release of some truly exquisite minimalist timepieces that perfectly blend form and function. Here, we've curated a selection of the top minimalist watches for women this year, offering a balanced blend of style, quality, and affordability.
Nordgreen Philosopher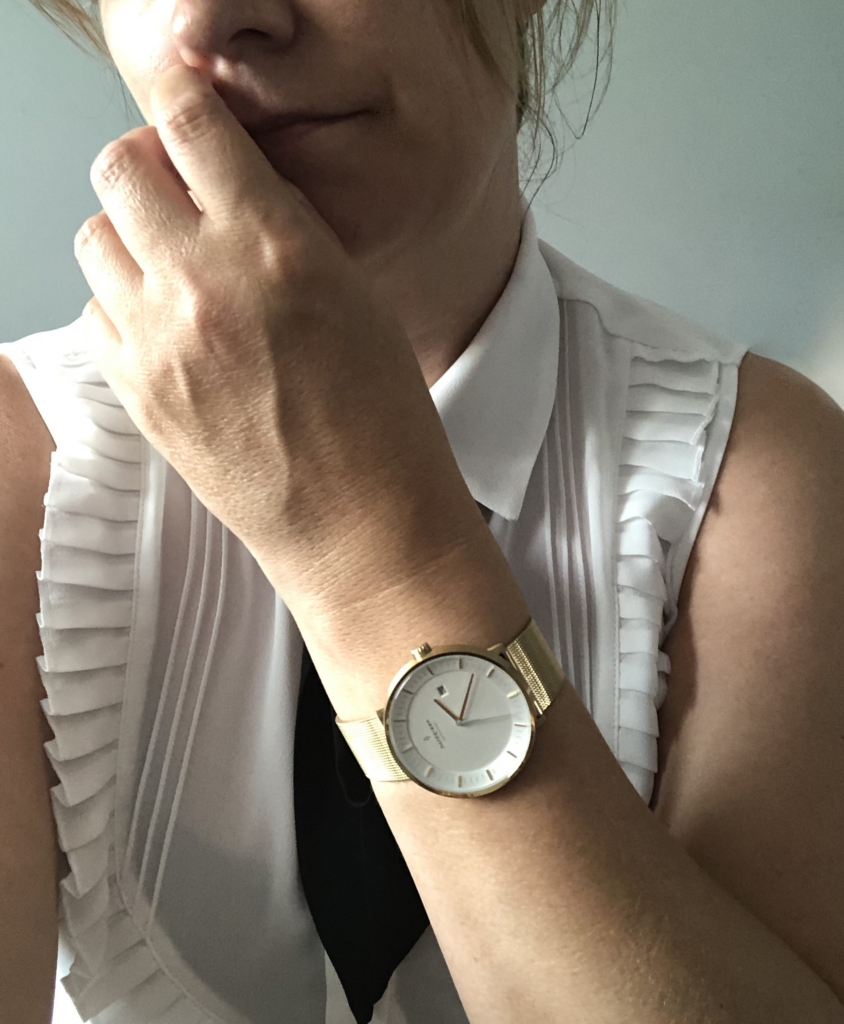 Nordgreen Philosopher is a testament to the brand's commitment to sustainable, functional design. This watch features a simple yet eye-catching face, with a mesh stainless-steel band providing an air of elegance. Its Japanese quartz movement guarantees precise timekeeping, while the watch's durable build promises longevity.
Nomos Glashütte Tangente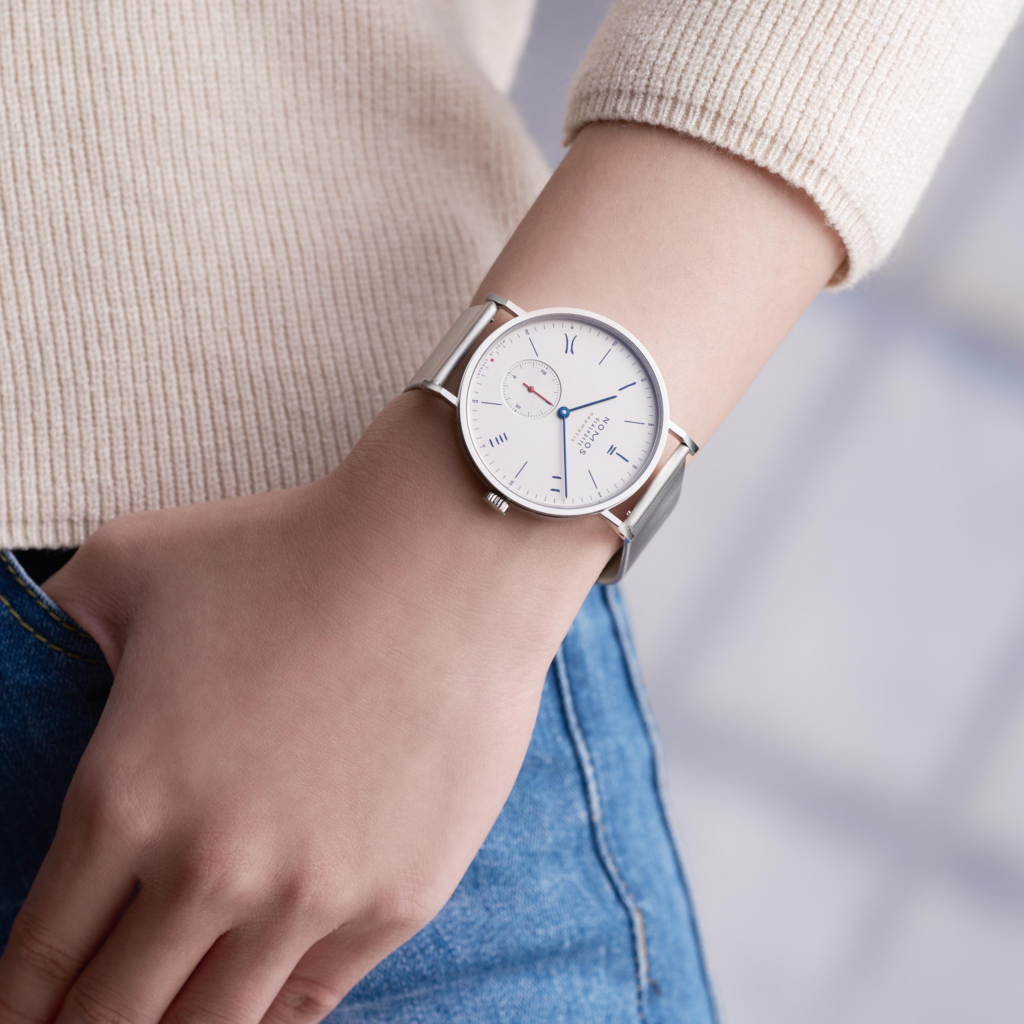 Shifting focus, we now look at the Nomos Glashütte Tangente. This minimalist watch, ticking with exacting German precision, epitomizes simplicity and clarity. It is functionally chic, featuring a legible dial and a variety of strap materials and hues, allowing it to effortlessly blend with any outfit or occasion. Furthermore, Nomos Glashütte's commitment to longevity and robust design is a welcome advantage for those conscious of their environmental footprint.
Skagen Aaren Kulor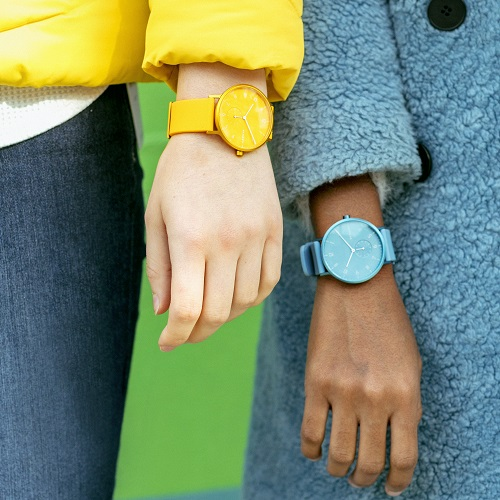 The Skagen Aaren Kulor offers a pop of color in the world of minimalist watches. It's simple, yet suggestive design features a round dial and a vibrantly colored silicone band. It's water-resistant too, making it perfect for everyday wear.
MVMT Signature II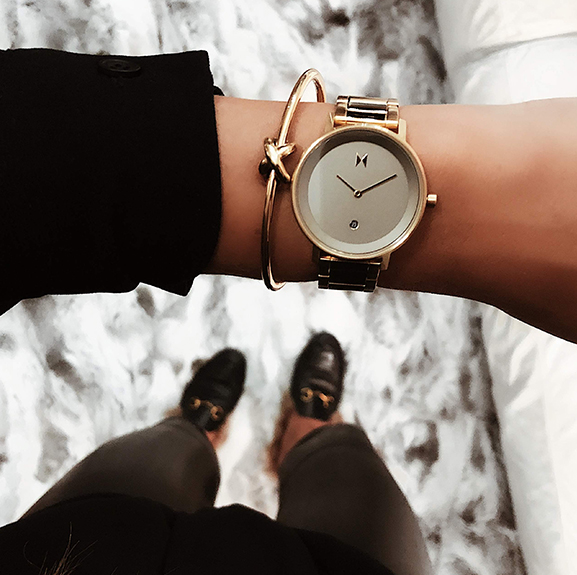 The MVMT Signature II is a minimalist masterpiece. It features a slim case, a classic dial, and an interchangeable leather strap. Its rose gold-tone gives it a feminine touch, while its reliable quartz movement offers precision and peace of mind.
So, whether you lean towards a traditional design like the Braun BN0211, or prefer a pop of color like the Skagen Aaren Kulor, there's a minimalist watch out there to suit your individual style. Remember, the beauty of minimalism lies in its simplicity and functionality, and these watches truly embody those principles.
How to Choose the Perfect Minimalist Watch for You
Choosing the perfect minimalist watch can be an exciting journey. But with so many options available, where do you start? Let's simplify the process together. Research shows that the most important factors for consumers when purchasing a minimalist watch are design, quality, and price.
Consider Your Personal Style
First and foremost, think about your personal style. Are you more of a classic and traditional person or do you lean towards modern and trendy? Your watch should mirror your style. It should feel like an extension of you; not something that feels out of place. Remember, the goal of a minimalist watch is to enhance your look without overpowering it.
Choose the Right Watch Size
While large watches can make a bold statement, they may not suit everyone's taste or wrist size. Minimalist watches typically have a less-is-more approach. A watch that is too large can look overbearing, while one that is too small might not be easily readable. Consider your wrist size and choose a watch that is proportionate.
Pick the Right Material
From stainless steel to leather, minimalist watches come in a variety of materials. Stainless steel watches are often more durable and water-resistant, making them a great choice for those who lead an active lifestyle. On the other hand, leather watches may provide a more formal and sophisticated look.
Decide on the Watch Features
Even minimalist watches come with a variety of features. Some have date functions, others have luminous hands, and some even have chronograph capabilities. Consider the features that are important to you and make sure your chosen watch has them.
Set a Budget
Lastly, set a budget for your watch purchase. Minimalist watches can range from affordable to luxury prices. Knowing your budget can help narrow down your choices and avoid overspending.
As you embark on your journey to find the perfect minimalist watch, remember that the best watch for you is the one that makes you feel confident and comfortable. It's a personal choice – so embrace your style, consider your options, and enjoy the process. And remember the average price of a minimalist watch is $200.
What are the key features of a minimalist watch?
You may be wondering, what exactly sets minimalist watches apart from other timepieces? Here's the rundown.
Design
The heart of a minimalist watch lies in its design. These watches are all about simplicity and understatement. They prioritize clean lines, balanced proportions, and a lack of excessive detailing. You won't find any flashy gems or over-the-top embellishments here. Instead, you'll see a focus on functionality, with all unnecessary elements stripped away. This results in a watch that is not only timelessly stylish but also easy to read at a glance.
Color Palette
Minimalist watches typically stick to a neutral color palette. Black, white, silver, and gold are common choices, although you may also find variations in pastel shades or other muted hues. The aim is to create a versatile accessory that can be paired with any outfit. In line with the minimalist ethos, these watches are designed to seamlessly blend in rather than stand out.
Materials
Quality materials are a hallmark of minimalist watches. Stainless steel, leather, and scratch-resistant sapphire crystal are often employed. These materials not only enhance the watch's durability but also contribute to its sleek, understated aesthetic.
Mechanism
When it comes to the inner workings, minimalist watches can vary. Some feature quartz movements for precise timekeeping and low maintenance, while others incorporate mechanical or automatic movements for a more traditional, tactile experience. The choice between these mechanisms often comes down to personal preference.
In summary, the key features of a minimalist watch include a simple, understated design, a neutral color palette, high-quality materials, and a reliable mechanism. It's a testament to the idea that less is indeed more.
What are the benefits of owning a minimalist watch?
If you're wondering why you should opt for a minimalist watch, the reasons are many. With their sleek and simple design, minimalist watches offer a breath of fresh air in a world often overwhelmed by complexity and ostentation. Let's take a closer look at some of the key benefits of owning a minimalist watch.
Elegance in Simplicity
One of the most appealing aspects of minimalist watches is their simple yet elegant design. With their clean lines and understated appeal, these timepieces are a testament to the adage that less is indeed more. They easily blend with any outfit, whether formal or casual, and never go out of style.
Unmatched Versatility
Minimalist watches are incredibly versatile. With their neutral colors and timeless design, they can effortlessly match any outfit in your wardrobe. Whether you're attending a business meeting, a casual get-together, or a formal event, a minimalist watch will always be a perfect accessory.
Focus on Functionality
Minimalist watches are designed to do one thing exceptionally well: tell the time. By stripping away all the unnecessary bells and whistles, these watches offer a clear, easy-to-read dial that allows you to tell the time at a glance, without any distractions.
Value for Money
Despite their premium look and feel, minimalist watches are often more affordable than their feature-laden counterparts. This is because manufacturers can focus on producing high-quality, reliable timepieces without the need for costly additional features. Hence, a minimalist watch offers excellent value for money.
Sustainability
Many minimalist watch brands are committed to sustainability, using eco-friendly materials and production processes. So, by choosing a minimalist watch, you're not only making a style statement but also contributing to a more sustainable future.
In conclusion, a minimalist watch is more than just a time-telling device. It is a symbol of elegance, versatility, functionality, value, and sustainability. So, why not make a minimalist watch your next style statement?