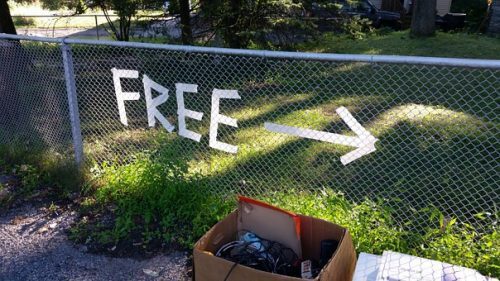 Note: Today's post is the last in a short series of guest posts at Hip Diggs, by Emily McDermott.
I am lucky that I have a Goodwill Donation Center two miles away from my house. In beginning days of my decluttering and minimalism journey, I made frequent trips there on the weekends.
Each bag of donated items made me feel lighter, while also making me wonder how I had acquired so much stuff.
While Goodwill is a great organization that accepts a variety of items, I learned more about textile waste through documentaries such as The True Cost and started reading articles about the journey of donated items after they reach donation centers.
It made me pause and think whether there might be a different way to bless others in need while diverting items, at least for a while longer, from landfills.
The Power Of Minimalist Groups
One Facebook group that has been hugely beneficial to me is called Buy Nothing. The mission of the group is to,
There are groups all over the world and several in the U.S. The popularity seems to be growing; in fact, I was recently informed that because of the popularity of the group that I belonged to, and the desire to keep it hyper-local, that I would be moved to a different group based upon my zip code.
I found that if I am willing to give an item away for free, even something that I could probably sell on Craigslist or Facebook Marketplace, I have great success with the group and get to meet and bless my neighbors in the process.
I live in the Washington D.C. metro area and find that it's more common not to know your neighbors. Buy Nothing is changing that. It also is a great resource if you need to borrow something or can offer something for someone to borrow. I am intrigued by tool libraries and other aspects of the sharing economy and think that Buy Nothing is a great place to start to see if you can if you can borrow something before you decide to purchase it.
Buy Nothing Works Better Than Selling
Even though it takes a little more time and effort to coordinate the pickup of the items I donate, I love finding out from my neighbors how much the items have helped them or brought them joy. For example, I had a nice watch that my husband never wore that I tried to sell on Facebook Marketplace with no success.
When I posted it on Buy Nothing, I heard immediately from a woman who was interested in it for her teenage son. After she brought it home, she messaged me to tell me that he was so excited because he now had a watch to wear to his band concerts. That watch sat in my closet for at least five years, just waiting to be able to bless someone.
Now I look at the items in my home that I no longer need, and instead of thinking that I'll use it "someday,"  I think about where that item will do the greatest good. For me, Buy Nothing groups are frequently the answer and are an integral part of my minimalist toolkit. 
Today's post is a guest post by Emily McDermott: Emily is a wife, mother, and simplicity seeker, chronicling her journey at Simple by Emmy. She loves to dance, write poetry, and spend time with her husband and two young sons.