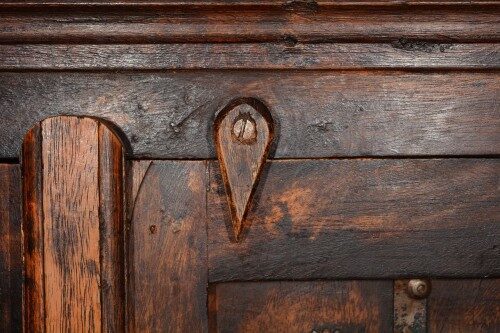 Minimalists or not, we all want a home that fits our personality, right? If you want to add some charm and character to your home, consider your furniture. You don't need a lot of furniture, but a few well-placed, practical pieces can save you money in the long run. Today, I look at the value of antique furniture. 
I don't have a lot of furniture in my home, but much of what I do have is old. I've discovered that there is value in furnishing with antiques. I'm not talking about the pieces that have been meticulously restored. Those would be expensive and impractical. I'm talking about simple, old, solid-wood furniture.
What I've Learned From Moving
About 12 years ago, I moved from Indiana back to Washington State. I sold nearly every piece of furniture I owned before I moved. Most of it was that inexpensive pressboard crap you can buy at any big-box store. When I got to Washington, I started shopping around. I discovered four basic furniture choices:
Furniture from furniture stores: I don't know how people can afford this stuff. It's expensive. I quickly decided that traditional furniture stores were not for me. 
Furniture from big-box stores: Stores like Walmart, Shopko, Fred Meyer, and Ikea have less expensive furniture, but you get what you pay for. Most of it's made out of cheap materials, and you have to assemble it yourself. 
Furniture from the classifieds: Sometimes you can find great deals by looking through the local classifieds or Craigslist, but you might just be buying used pressboard crap. You also might wind up doing a lot of running around.
Furniture from antique stores: Most antique stores have a variety of furnishings. Some antiques are expensive, but you can also find some great deals.
Antiques Can Save You Money
After spending a few days looking for furniture, I bought four antique items that I still own today, all for less than $500.
An old, pub-style dining-room table
Two solid-wood dressers
A small, wooden bookcase
Fast-forwad ten years, and I moved again, when I bought my current home. Some of the old pressboard pieces were falling apart, so I recently added a few more antiques.
An antique piano (free)
An old writing desk (with chair)
Three antique dining-room chairs (replacements for ugly modern chairs)
A large, wooden cabinet (used as an entertainment center)
A small, wooden sheet-music cabinet
A small, wooden record cabinet (used as a bedside table)
A small, wooden radio table (used in the art/music studio)
I've also discovered that antique stores are great places to buy wall art. You can find interesting and unique pieces for a fraction of the cost of less interesting shopping-mall art. I have several original paintings hung that were only $15-$30 each.
Antiques Add Charm And Character
In the end, my home has a distinct and charming appearance. Some of the furniture is scratched, marked, or stained, but that's what gives it character.
Nearly every piece of wooden furniture in my house is an antique. Each piece also serves a specific and valuable purpose. The total cost was about $1000. One could spend easily that much on a dining set alone at a traditional furniture store.
Next time you need a few pieces of furniture, don't overspend or buy pressboard crap. Buy antiques. You'll save money and add charm to your home.
Dan Erickson